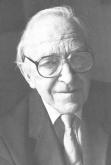 Ivan Sutton MBE
1914-1996
Inspired by the famous series of concerts given during World War II by Dame Myra Hess at the National Gallery and the Royal Exchange, City Music Society was founded in 1943 by the late Ivan Sutton and is one of the country's leading music societies. The Society presents around 20 concerts per year and has 2,424 lunchtime and early evening concerts to its credit. It celebrated its 75th anniversary in 2018-19 with three special cocnerts.
In addition to featuring well-established musicians, it has always been the Society's policy to invite out-standing young professional artists who are at the beginning of their careers, many of whom have since attained international status. From January to March 2004 the Society presented a new series of lunchtime concerts running parallel with the series at Bishopsgate on Tuesdays. The Free Winter Series was discontinued in 2017 following the demise of The City of London Festival. The Society now concentrates on offering young musicians concert opportunities while occasionally organizing evening events involving more established artists.
Members of the Society are more than just passive listeners. Over the years the Society has commissioned many new works - on average one every three years - from a wide and diverse range of British composers, including Roger Smalley, Nicholas Maw, Diana Burrell, Richard Rodney Bennett, Elizabeth Maconchy, Phyllis Tate, Robin Holloway, John McCabe, Geoffrey Burgon, Peter-Paul Nash, Kevin Volans and Michael Berkeley.
CONCERTS AT ST BARTHOLOMEW THE GREAT

As the Covid 19 pandemic continues to restrict attendance at concerts in and travel to the City
of London, City Music Society regrets that it has been decided to postpone the resumption of its
concert series at St Bartholomew the Great. At this time it is hoped that concerts might resume in
April 2021 for six weeks but this will be determined in February 2021. Artists whose concerts had
been confirmed and which have now been postponed have received a fee in compensation.
City Music Society is continuing to present its lunchtime concert series in the beautiful surroundings of St Bartholomew the Great in Smithfield. See Lunchtime Concerts for details.
| | |
| --- | --- |
| | The Society is immensely grateful to The Musicians' Company for its support of the Spring Concert Series which also features some of The Musicians' Company's outstanding award winners |
The church of St Bartholomew the Great is situated in West Smithfield between St Bartholomew's Hospital and Smithfield Market. It is best approached via West Smithfield via the Tudor gateway but access is also possible via the gate in Cloth Fair. The nearest stations are Barbican, Farringdon, St Paul's and City Thameslink.

The Spring Series of concerts is presented in association with St Bartholomew the Great (by kind permission of the Rector and the Churchwardens).

MEMBERSHIP
For details of membership of the Society please see Membership Details.

You can help City Music Society in its mission to support young musicians at the start of their careers. Join us as a Member (£15 per annum), Joint Members (£20pa), Friend (£25pa), Patron (£100pa) or Benefactor (£250pa).
Every year we give outstanding soloists, ensembles and groups from the major conservatoires vital opportunities to develop their performance experience in a first-class venue.
Membership also grants discounts on CMS evening concert ticket prices.
For our Membership form, please visit the Membership Details page of the CMS website.
FOLLOW CITY MUSIC SOCIETY ON FACEBOOK
You can now follow City Music Society events on Facebook. Why not sign up?

The City Music Society's Sponsors and supporters are:
• The Musicians' Company



Individual concerts are supported by:


• The Royal Philharmonic Society

The Society depends on sponsorship and donations. To discuss how you and your company can support the Society's work, please contact us on 07740 214 248.

Individuals can now join our Friends Scheme - see membership form.